Cactus Wellhead, LLC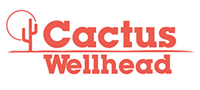 Cactus Wellhead, LLC designs, manufactures and sells surface wellheads and Christmas trees. In addition, the Company maintains an inventory of frac trees and ancillary equipment for short-term rental, offers repair and refurbishment services, and provides service crews to assist in the implementation of pressure control systems at the wellhead. Headquartered in Houston, TX, Cactus Wellhead has service and manufacturing sites throughout the United States with additional facilities in China and Australia.
The Company trades on the New York Stock Exchange (NYSE:WHD).
Website: www.cactuswellhead.com